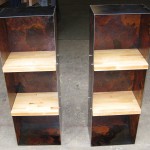 These are images of some custom furniture work that Detail Exchange did in the past few days. They are shelving units that we made for a Philadelphia bar/restaurant that is currently under construction and will be opening next month.
Materials:
The units are a composition of two materials: metal and wood. The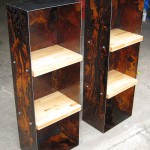 metal is cold-rolled steel that we oxidized to achieve those results of color and expression and the wood is clear-coated maple butcher block.
Design:
The juxtaposition of these two materials makes for a striking composition. Also, in these pieces one can see our commitment to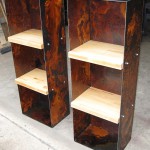 rigorous honestly in materiality and structure. Every piece is sealed with a clear finish to expose the honest expression of the materials' natural qualities and all connections are brazenly expressed. We of Detail Exchange ( custom furniture, interior designers, and architecture ) are pleased with the success of this project.
To view the full size picture click on the image you wish to view.